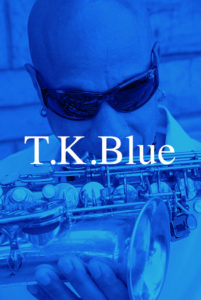 14
Apr
2018
Jersey City, New Jersey (USA)
Details
Time : 730pm to 9pm
Venue : Miller Branch Public Library
Address : 489 Bergen Ave in Jersey City
State : New Jersey
Zip : 07304
Phone : 201-547-4551

The T.K.Blue Quintet featuring special guest vocalist Allan Harris will perform at the Miller Branch Library 489 Bergen Ave Jersey City New Jersey 07304 and info 201-547-4551 on Saturday April 14th one show at 7:30pm to 9pm. This concert is sponsored by the Jazz Foundation Of America and the Community Cultural Awareness Series. This concert will feature new music from T.K.'s latest CD release called Amour on Dot Time Records. The performance is also part of Jazz Appreciation Month and it's dedicated to the musical legacy of Paul Robeson and Eddie Jefferson. The band members are George Coleman Jr on drums, Gregoire Maret on harmonica, Greg Murphy on piano, and bass TBA.